Flexa
A safe, functional and stimulating environment for children.
Flexible furniture
Furniture that follows children through the years thanks to the flexibility of its design, which enables you to adapt it according to your child's needs.
Natural products
Materials provided by mother nature, ecological dyes and certified hypoallergenic cotton fabrics are used.
Fascinating designs
Designs and colors that stimulate the imagination and creativity of our little friends.
My new room
Make the children's room a perfect and safe place for comfortable sleep, relaxing study and creative play, for the child to live every day a new, exciting adventure.
Beds
Starting from a simple bed you can choose whether it will remain low with a sliding bed or storage drawers, or whether you will change its height by adding the corresponding legs, ladder or even slide!

There are 3 options for raised beds:

Mid-High Beds
Height 120 cm, suitable from 3 years old.

Semi-High Beds
Height 143 cm, suitable from 4 years old

High Beds
Height 185 cm, suitable from 6 years old

Options do not stop here, as you can turn your bed into a bunk bed, by adding the same bed along with the corresponding joints and ladder, depending on the style or height of the bunk bed you want to have.
Studied to the last detail
All FLEXA beds are completely safe and child-friendly as well as environmentally friendly.
So, in addition to their ecological colors and certifications, they are characterized by their perfectly rounded corners, the measured distances so that little arms and legs do not get stuck in, but also their great durability and robustness that make them ideal for a proper sleep and suitable for endless hours of play.
So start with the bed that serves you and shape your space each time according to your needs by changing the bed again and again!
Desks
FLEXA desks ideally combine functionality, ergonomics and Scandinavian design, so that the child always has the right posture during study and a desk that perfectly fits the room and your preferences.

Depending on your needs, you can choose a desk with adjustable slope and height, with single or split surface, but also choose whether it will have drawers or additional accessories..
Chairs
With the minimum height of the seat being 6 cm lower than office chairs, so that the child can have proper support and comfort at any age, these desk chairs ensure a comfortable and relaxing study.

You will find chairs with removable cushions for easy cleaning, but also with wheel brakes, to be completely immobilized when needed.
Toys and décor
Specially designed to encourage role play, as they create an environment that sparks the child's imagination. The child learns to work as a team and develop his/her social skills, to experiment and to become creative.

These toys and décor guarantee many hours of fun play, are an ideal addition to the children's room and a perfect gift idea, especially when combined with FLEXA furniture.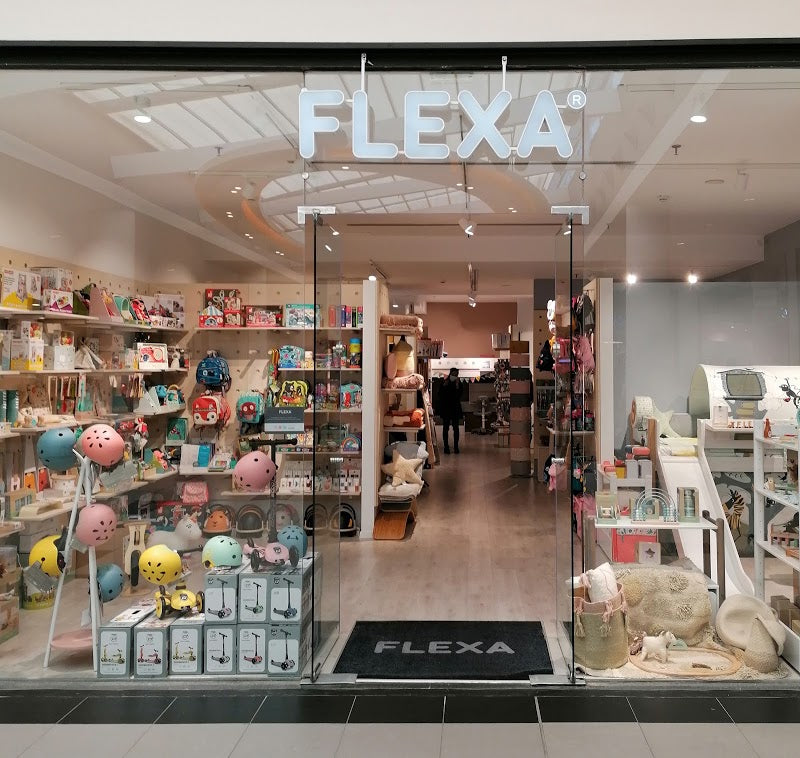 Where to find FLEXA products
You can place an online order for the furniture and FLEXA toys that you have chosen. If you want to check them up close, we will be happy to have you in one of our FLEXA or Cozykids stores and choose together the solution that best suits your needs.
Check out the FLEXA stores